EFEKTIVITAS EKSTRAK ETANOL DAUN EFEKTIVITAS EKSTRAK ETANOL DAUN SIDAGURI (Sida rhombifolia L.) TERHADAP PENURUNAN KADAR ASAM URAT PADA TIKUS JANTAN GALUR WISTAR HIPERURISEMIA
EFEKTIVITAS EKSTRAK ETANOL DAUN SIDAGURI (Sida rhombifolia L.) TERHADAP PENURUNAN KADAR ASAM URAT PADA TIKUS JANTAN GALUR WISTAR HIPERURISEMIA
Bunga Rimta Barus

Institut Kesehatan Deli Husada
Keywords:
Sida rhombifolia L, hyperuricemia, potassium oxanate, allopurinol.
Abstract
Sidaguri leaves (Sida rhombifolia L.) Have been shown to contain flavonoid compounds, where they are efficacious as hyperuricemia. This study aims to determine effectiveness ethanol extract of sidaguri leaves as antihyperuricemia in white rats. The study was conducted using the method of potassium oxanate induction and measured using glucometers. 15 animals were divided into 5 groups, namely negative control, positive control, group I combination of ethanol extract of sidaguri leaves 50 mg / kg body weight, group II ethanol extract of sidaguri leaves 100 mg / kg body weight, group III ethanol extract of sidaguri leaves 200 mg / kg body weight for 5 hours. Examination of antihyperuricemia effects is done by comparing the uric acid levels value of the rats before and after treatment. The results of this study indicate that the three dose ethanol extract of sidaguri leaves provide an antihyperuricemia effect and based on one-way Anova, Tuckey and LSD data analysis, shows that the dose of 50 mg / kg body weight is effective as antihyperuricemia and does not have a significant difference (p> 0.05). The conclusion of this study is that the dose is the most effective in decreases uric acid levels in white rats, which is a dose of 200 mg / kg body weight because it mostly decreased uric acid levels.
Downloads
Download data is not yet available.
References
Dalimartha, S., Adrian, F. (2013). Ramuan Herbal Tumpas Penyakit Penebar. Swadaya: Jakarta.
Depkes RI. (2009). Farmakope Herbal Indonesia Edisi I. Jakarta: Direktorat Jenderal Pengawasan Obat dan Makanan. Halaman 58-60.
Hartati, S. (2011). Gulma Dan Rempah Berkhasiat Obat, IPB Press, Bogor: Halaman 54-56.
Mariani, I., Bahri, S., Saragih, A. (2012). Aktivitas Antihiperurisemia Ekstrak Etanol Herba Suruhan (Pepromia pellucida (L.) Kunth) Pada Mencit Jantan, Universitas Sumatera Utara, Medan: Halaman 39.
Menkes RI. (2003). Peraturan Menteri Kesehatan Republik Indonesia Nomor 269/Menkes/Per/II/2008. Tentang Rekam Medis. Jakarta: Kementrian Kesehatan Republik Indonesia.
Misnadiarly. (2007). Asam Urat-hiperurisemia, arthritis gout, Pustaka Obor Populer, Jakarta: Halaman 9.
Rizki, K. P., Muslichah, S., Ningsih, I. Y. (2018). Pengaruh Pemberian Kombinasi Ekstrak Etanol Daun Sidaguri (Sida rhombifolia L.) dan Rimpang Jahe Merah (Zingiber officinale Rosc.) pada Mencit Jantan Hiperurisemia, Universitas Jember, Jember: Halaman 206-207.
Wiryowidagdo, S., (2008). Kimia Dan Farmakologi Bahan Alam, Edisi. II, Jakarta: Penerbit Buku Kedokteran EGC.
Yunita, E. P., Fitriani, L. D., Gunawan, A. (2018). Hubungan antara Obasitas Konsumsi Tinggi Purin, dan Pengobatan terhadap Kadar Asam Urat dengan Penggunaan Allopurinol pada Pasien Hiperurisemia, Universitas Brawijaya, Malang: Halaman 2.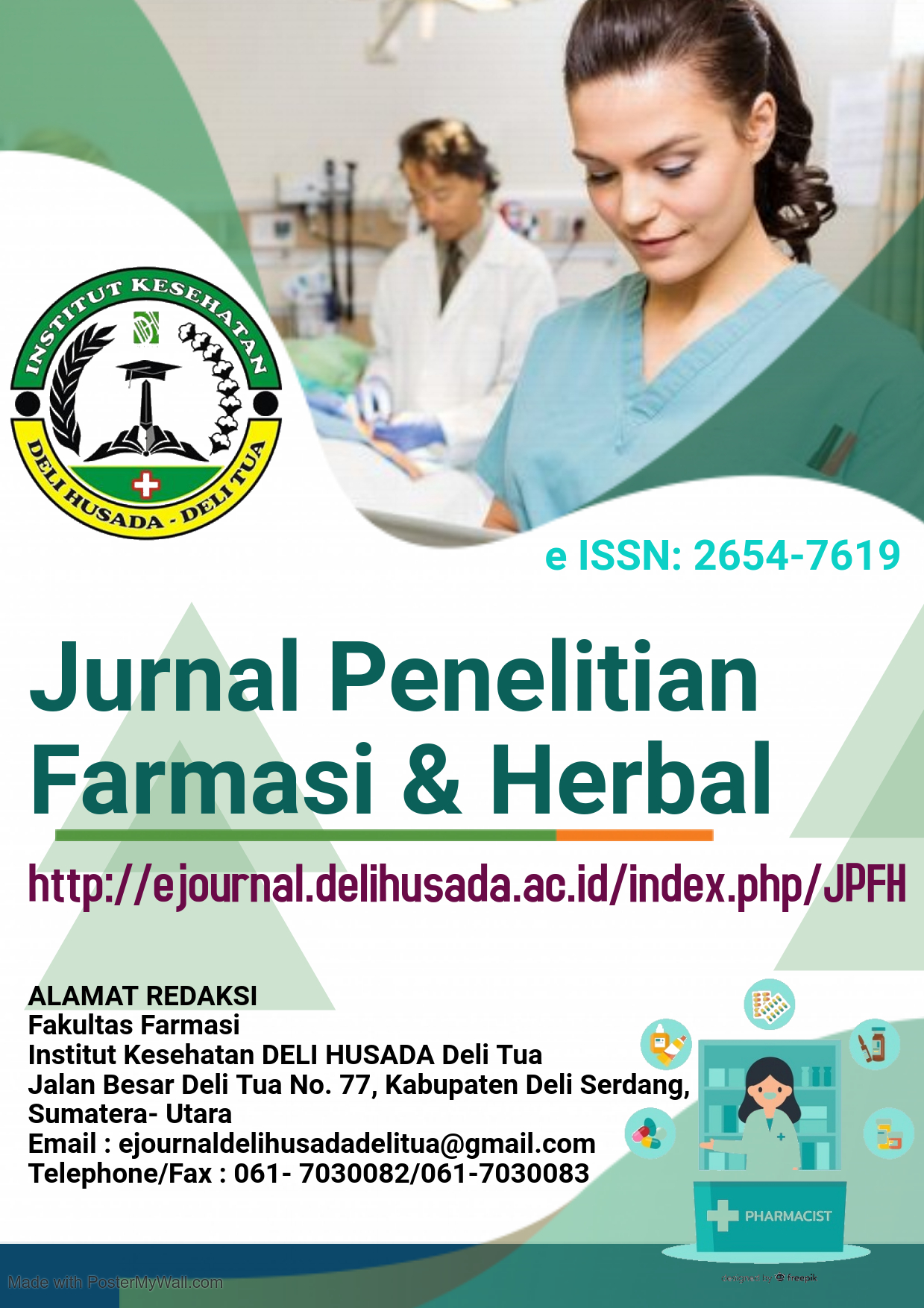 How to Cite
Barus, B. (2020). EFEKTIVITAS EKSTRAK ETANOL DAUN EFEKTIVITAS EKSTRAK ETANOL DAUN SIDAGURI (Sida rhombifolia L.) TERHADAP PENURUNAN KADAR ASAM URAT PADA TIKUS JANTAN GALUR WISTAR HIPERURISEMIA. Jurnal Penelitian Farmasi & Herbal, 3(1), 29-37. https://doi.org/10.36656/jpfh.v3i1.315