AKTIVITAS ANTIBAKTERI EKSTRAK KULIT BUAH PEPAYA CALIFORNIA (Carica papaya L) TERHADAP BAKTERI Escherchia coli
Romaulianna Theresia Marbun

Institut Kesehatan Medistra Lubuk Pakam

Novidawati Br Situmorang

Institut Kesehatan Medistra Lubuk Pakam
Abstract
Infectious diseases caused by bacteria, require antibiotics for treatment. Incorrect use of antibiotics causes. the occurrence of resistance. From the research, it was found that many medicinal plants can be used to cure infectious diseases. One of them is California Papaya Fruit Skin (Carica papaya L). The purpose of this study was to determine the active substance in the skin of the Carica Papaya Fruit as an antibacterial agent and to determine the activity of KBPC extract against E. coli bacteria. This research method is a laboratory experiment where the sample in this study is 3 kg. Phytochemical test results with positive ethanol extraction containing flavonoids, saponins, steroids. Where favonoids can be potential as antibacterial through 3 mechanisms, namely by inhibiting nucleic acid synthesis, inhibiting cell membrane function and inhibiting energy metabolism. The results of the antibacterial activity test against E. coli bacteria were carried out with several concentrations, namely 20%, 40%, 60%, 80%, 100%, the test results obtained from the concentration of 20% of 8.76 mm the highest inhibitory power at the concentration 100% of 19.33 mm. Conclusion KBPC extract has antibacterial activity against E. Coli bacteria.
Downloads
Download data is not yet available.
References
Desrini, S. (2015). Resistensi antibiotik, akankah dapat dikendalikan. JKKI. Vol.6 (4) : 1 – 3.
Dwisatyadini, M. (2017). Pemanfaatan Tanaman Obat untuk Pencegahan dan Pengobatan Penyakit Degeneratif. In: Optimalisasi Peran Sains dan Teknologi untuk Mewujudkan Smart City. Tangerang Selatan: Universitas Terbuka, ISBN 978-602-392-158-4 (e).
Fajeriyati, Andika. (2017). Uji Aktivitas Antibakteri Ekstrak Etanol Rimpang Kencur (Kaempferia galanga L) Pada Bakteri Bacillus subtilis dan Escherichia coli. Journal. Vol.1 No.1
Nova, Suryati. (2017). Uji Efektivitas Antibakteri Ekstrak Aloe vera Terhadap Pertumbuhan Escherichia coli secara In Vitro. Jurnal Kesehatan Andalas : 6 (3).
Zulmiyusrini, P. (2015). Infeksi. (Online).(http://www.kerjanya.net/faq/12111infeksi.html/).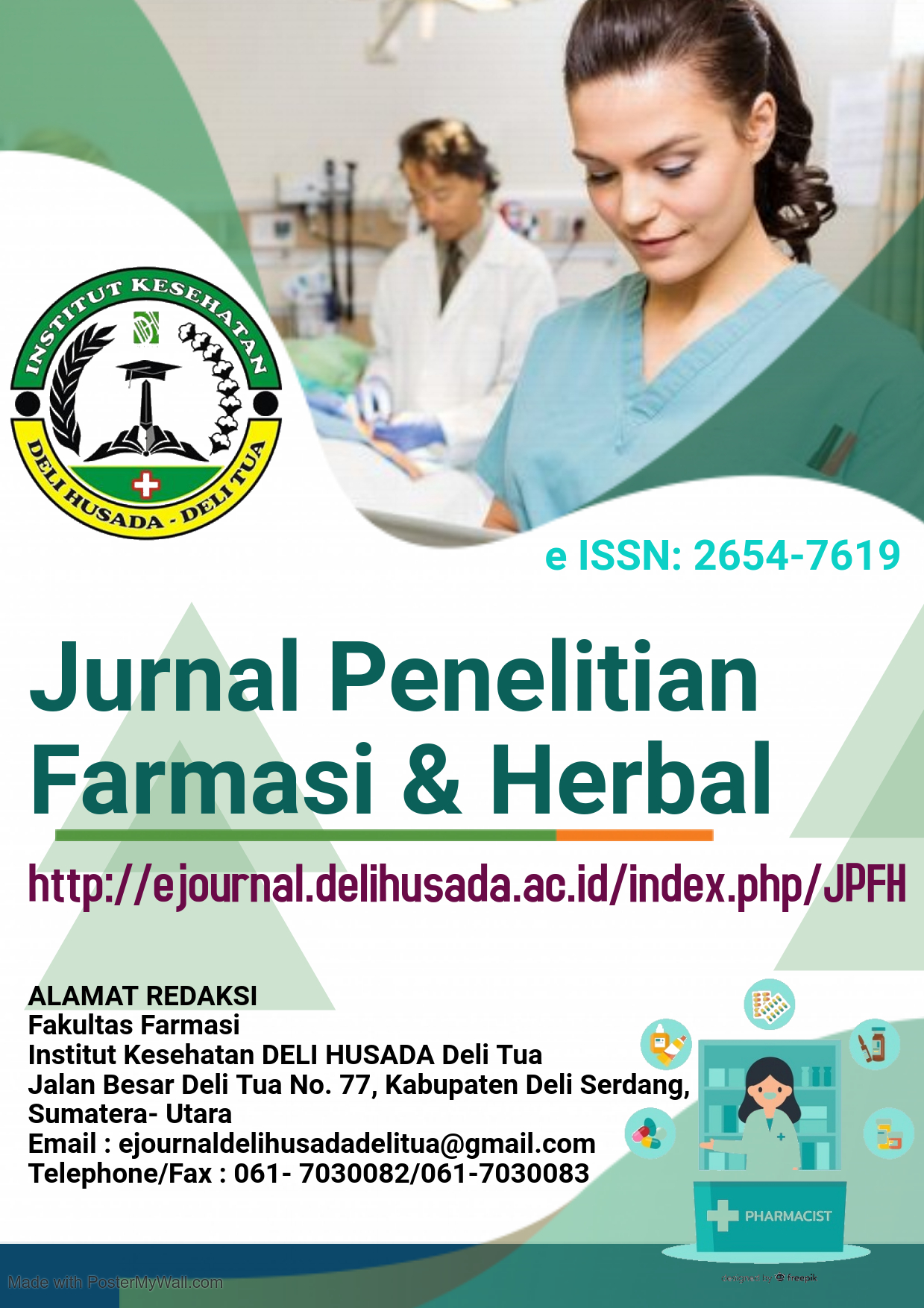 How to Cite
Marbun, R., & Situmorang, N. (2020). AKTIVITAS ANTIBAKTERI EKSTRAK KULIT BUAH PEPAYA CALIFORNIA (Carica papaya L) TERHADAP BAKTERI Escherchia coli. Jurnal Penelitian Farmasi & Herbal, 3(1), 130-134. https://doi.org/10.36656/jpfh.v3i1.368