the PENGARUH PEMBERIAN SIMETIDIN TERHADAP PROFIL FARMAKOKINETIKA PARASETAMOL DENGAN METODE HIGH PERFORMANCE LIQUID CHROMATOGRAPHY (HPLC) TAHUN 2020
PENGARUH PEMBERIAN SIMETIDIN TERHADAP PROFIL FARMAKOKINETIKA PARASETAMOL DENGAN METODE HIGH PERFORMANCE LIQUID CHROMATOGRAPHY (HPLC) TAHUN 2020
Christica Ilsana Surbakti

Institut Kesehatan DELI HUSADA
Keywords:
Pharmacokinetics, Paracetamol, Cimetidine, HPLC.
Abstract
Paracetamol is a safe analgesic and antipyretic drug with low side effects, effective and well tolerated. In some cases there is a drug interaction between paracetamol and other drugs. The purpose of this study is to determine the effect of cimetidine administration on paracetamol pharmacokinetic profiles. The method used in this study was an experimental method using 3 rabbits. Rabbits are divided into 3 groups. The first treatment group was given paracetamol suspension, the second treatment group was giving cimetidine 1 hour before paracetamol and the third group was giving cimetidine and paracetamol simultaneously. The dose of the drug has been adjusted to each rabbit. Measurement of plasma paracetamol drug levels was carried out using a High Performance Liquid Chromatography (HPLC) tool. The results of the study showed that the pharmacokinetic parameter values ​​did not show any significant effect on each group. Cimetidine administration simultaneously affects paracetamol pharmacokinetic parameters but not significantly. Likewise with the administration with a time span of 1 hour, did not show any significant changes in the pharmacokinetics of paracetamol.
Downloads
Download data is not yet available.
References
Arustiyono. (1999). Promoting Rational Use of Drugs at The Community Health Centers in Indonesia, Laporan penelitian WHO, Departement of International Health School Public Health, Boston.
Barber, P. (2012). Intisari Farmakologi untuk Perawat. Jakarta. Penerbit Buku Kedokteran EGC. Halaman 53 – 59.
Baxter, K. (2008). Stockley's Drugs Interaction. Eight Edition. USA: Pharmaceutical press.
Ditjen POM. (1995). Farmakope Indonesia. Edisi IV. Jakarta. Departemen Kesehatan RI.
Ditjen POM. (2014). Farmakope Indonesia. Edisi V. Jakarta. Departemen Kesehatan RI.
Fradgley, S. (2003). Interaksi Obat. Dalam Farmasi Klinis (Clinical Pharmacy) Menuju Pengobatan Rasional dan Penghargaan Pilihan Pasien. Jakarta: PT Elex Media Komputindo Kelompok Gramedia. Halaman 119 – 134.
Gandjar, I.G., dan Rohman, A., 2013. Kimia Farmasi Analisis. Yogyakarta : Pustaka Pelajar
Gitawati, R. (2008). Interaksi Obat dan Beberapa Implikasinya. Media Litbang Kesehatan. 18 (4) : 175 – 180.
Hakim, L. (2012). Farmakokinetik Klinik. Yogyakarta: Bursa Ilmu. Halaman 24 – 27, 184 – 185, 242 – 268, 313.
Harahap, Y. (2006). Analisis Glimepirida Dalam Plasma Tikus. Departemen Farmasi FMIPA. Universitas Indonesia.
Harmita. (2014). Analisis Fisikokimia Kromatografi. Jakarta: Buku Kedokteran EGC. Halaman 11 – 13.
Henry, D. (1993). Variability in the riks of major gastrointestinal complication from nonstreoidal anti-inflammatory drugs, Gastroenterology.
Katzung, B.G. (2001). Farmakologi Dasar Dan Klinik: Reseptor-Reseptor Obat dan Farmakodinamik. Penerbit Buku Kedokteran EGC. Pp 23 – 4.
May, dkk. (1997). Drugs Interaction and multiple drug administration. Clinical Pharmacology and Theraupeutics.
Mirakel Agatha Devi. (2007). Pengaruh Pemberian Air Berkarbonasi Terhadap Profil Farmakokinetika Parasetamol Pada Tikus Putih Jantan. Fakultas Farmasi Universitas Sanata Dharma. Yogyakarta.
Musdalipah. (2018). Identifikasi Drug Related Problem (DRP) Pada PasienInfeksi Saluran Kemih Di Rumah Sakit Bhayangkara Kendari. Jurnal Kesehatan. Politeknik Bina Husada Kendari.
Neal, M.J. (2006). Farmakologi Medis. Jakarta: Erlangga. Hal 13, 31.
Shargel, L. (2005). Biofarmasetika dan Farmakokinetika Terapan. Edisi II Penerjemah : Fasich dan Sjamsiah. Surabaya : Airlangga University Press. Halaman 131, 167, 201.
Sulistia Gan Gunawan. (2008). Farmakologi Dan Terapi Edisi 5. Jakarta: Fakultas Kedokteran- Universitas Indonesia.
Sulistiani, K.P (2016). Pengaruh Bekatul Beras Hitam (Black Rice Bran) Terhadap Profil Farmakokinetika Glibenklamid Pada Tikus Galur Sprague Dawley (SD). Surakarta. Fakultas Farmasi Universitas Muhammadiyah.
Syamsuni, H.A(2006). Ilmu Resep. Jakarta. Buku Kedokteran EGC. Halaman 14
Waldon, D.J. (2008). Pharmacokinetics and Drug Metabolism. Chambrige: Amgen, Inc.
Winter, Michael E. (2012). Farmakokinetika Klirens Dasar Edisi 5. Jakarta. Buku Kesehatan EGC.
Yanuartono, dkk (2020). Keracunan Parasetamol Pada Kucing dan Anjing: Gejala Klinis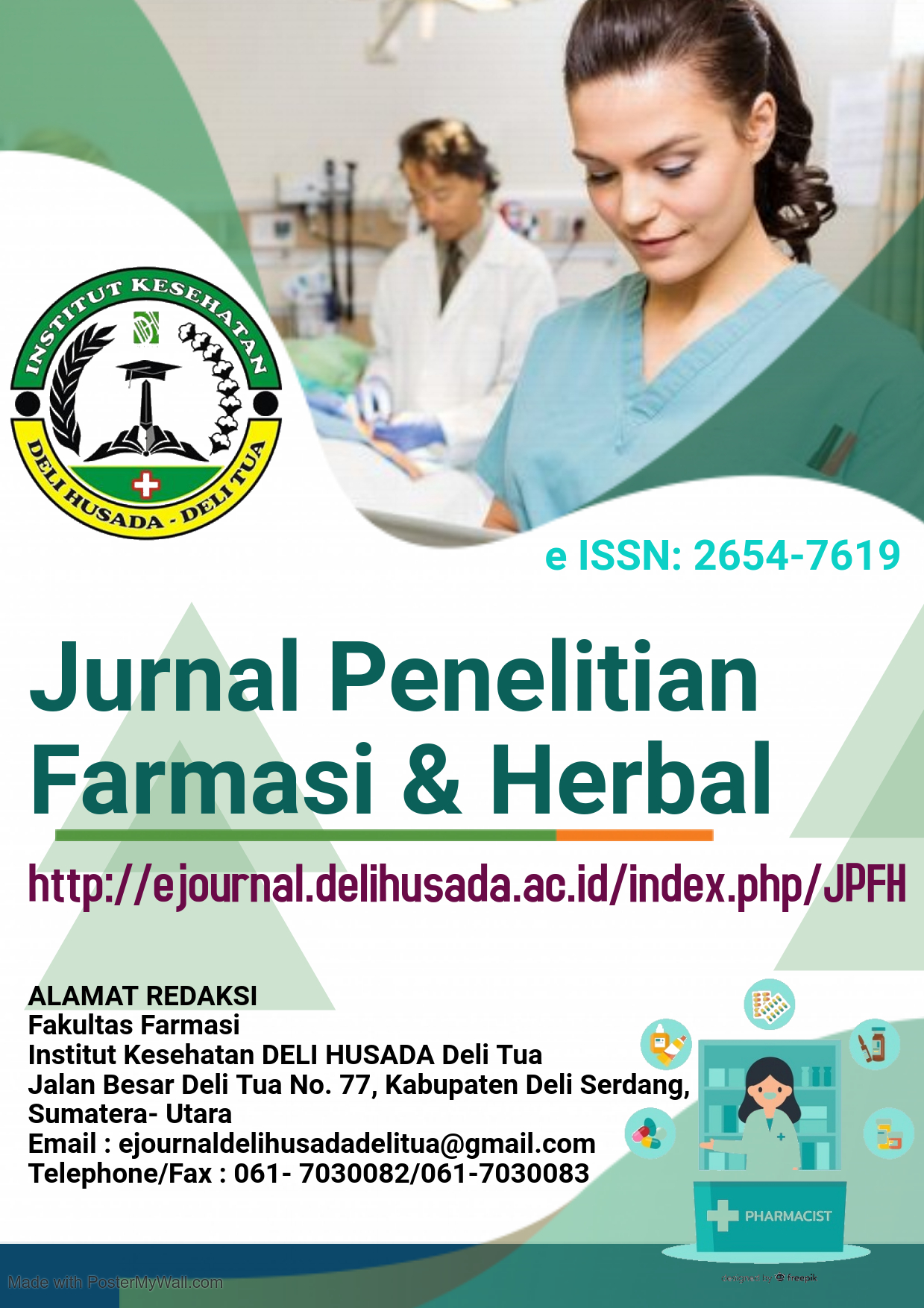 How to Cite
Surbakti, C. (2020). the PENGARUH PEMBERIAN SIMETIDIN TERHADAP PROFIL FARMAKOKINETIKA PARASETAMOL DENGAN METODE HIGH PERFORMANCE LIQUID CHROMATOGRAPHY (HPLC) TAHUN 2020. Jurnal Penelitian Farmasi & Herbal, 3(1), 122-129. https://doi.org/10.36656/jpfh.v3i1.362