PENGUJIAN EFEKTIVITAS DIURETIK KOMBINASI EKSTRAK ETANOL DAUN AFRIKA (Gymnanthemum amygdalinum Del.) DAN DAUN KELAPA SAWIT (Elaeis guineensis Jacq.) PADA TIKUS JANTAN
Delisma Simorangkir

Institut Kesehatan Deli Husada
Keywords:
Keywords: Diuretic, Gymnanthemum amygdalinum Del., Elaeis guineensis Jacq.
Abstract
African Leaf and palm leaf crops have a secondary metabolite content such as alkaloids and flavonoids that are efficacious as diuretics. The purpose of this study is to know the effectiveness of diuretics from the combination  African leaf ethanol extract and palm leaf ethanol extract. Methods used Eksperiemental. The test of diuretic activity is conducted divided into 6 treatment groups. Each group consists of 3 tails of white rats. Group 1 (positive control) administered Furosemide 3.6 mg/kgBB, Group 2 (negative control) was given suspension Na-CMC 0.5%, group 3 without treatment as well as groups of 4.5, and 6 in a row administered a combination of African leaf extract doses and extracts Oil palm leaf ethanol in a row of "50 mg/kgBB + 67, 5mg/kgBB"; "100mg/kgBB + 135 mg/kgBB"; and "200 mg/kgBB + 270 mg/kgBB". Each mouse is then given a 20ml NaCl/kgBB as an oral loading dose. Measured urine volume is recorded every hour for 6 hours after it continues to measure urine volume. The results showed that the combination of African leaf ethanol extract dosage and palm leaf ethanol extract had a diuretic effect if it was compared with negative control. The conclusion of the study was the results of the study showed that the combination of African leaf extract dosage and palm leaf extract is the most effective dose of Group 6 (African leaf extract 200 mg/kgBB + palm leaves 270 mg/kgBB ). Because it produces the highest urine volume of 23.01 ml.
Downloads
Download data is not yet available.
References
Assogba, F.M., Chouaibou, A., Wilfrid, A., Mansourou, M., Joachim, D. (2015) evaluation of diuretik propertiesfrom Elaeis guineensis jacg. (Aracaceae) leaves agueous extrctin wistar rat. Journal of Cheminal and Pharmaceutical Research. 7(3):2457-2462.
Darmono, Syamsudin. (2011). Farmakologi eksperiemental. Jakarta: Penerbit Universitas Indonesia. Halaman 110.
Nessa. (2013). Efek Diuretik dan Daya Larut Batu Ginjal dari Ekstrak Etanol Rambut Jagung (Zea mays L.). Journal. Fakultas Farmasi, Universitas Andalas. Padang.
Olufunso, Odewusi.O. & Tope (2015). An assessment of the diuretic effect of Vernonia amygdalinaaqueous extract on wistar rats. Central European Journal of Experimental Biology, 4(2):11-16.
Permadi, A. (2006). Tanaman Obat Pelancar Air Seni. Cetakan I. Jakarta: Penebar Swadaya. Halaman 16-20.
Tanu, I. (2009). Farmakologi dan Terapi Edisi 5. Jakarta: Balai Penerbit FKUI. Halaman 40.
Thomas, J & Tanya. M. (2012). Pemeriksaan Fisik dan Keterampilan Praktis. Jakarta:EGC.
Tjay, Tan Hoan dan Kirana Raharja. (2007). Obat-Obat Penting dan Khasiat Penggunaan dan Efek-efek Sampingnya. Edisi Keenam, 262,269-271, PT. Elex Media Komputindo, Jakarta.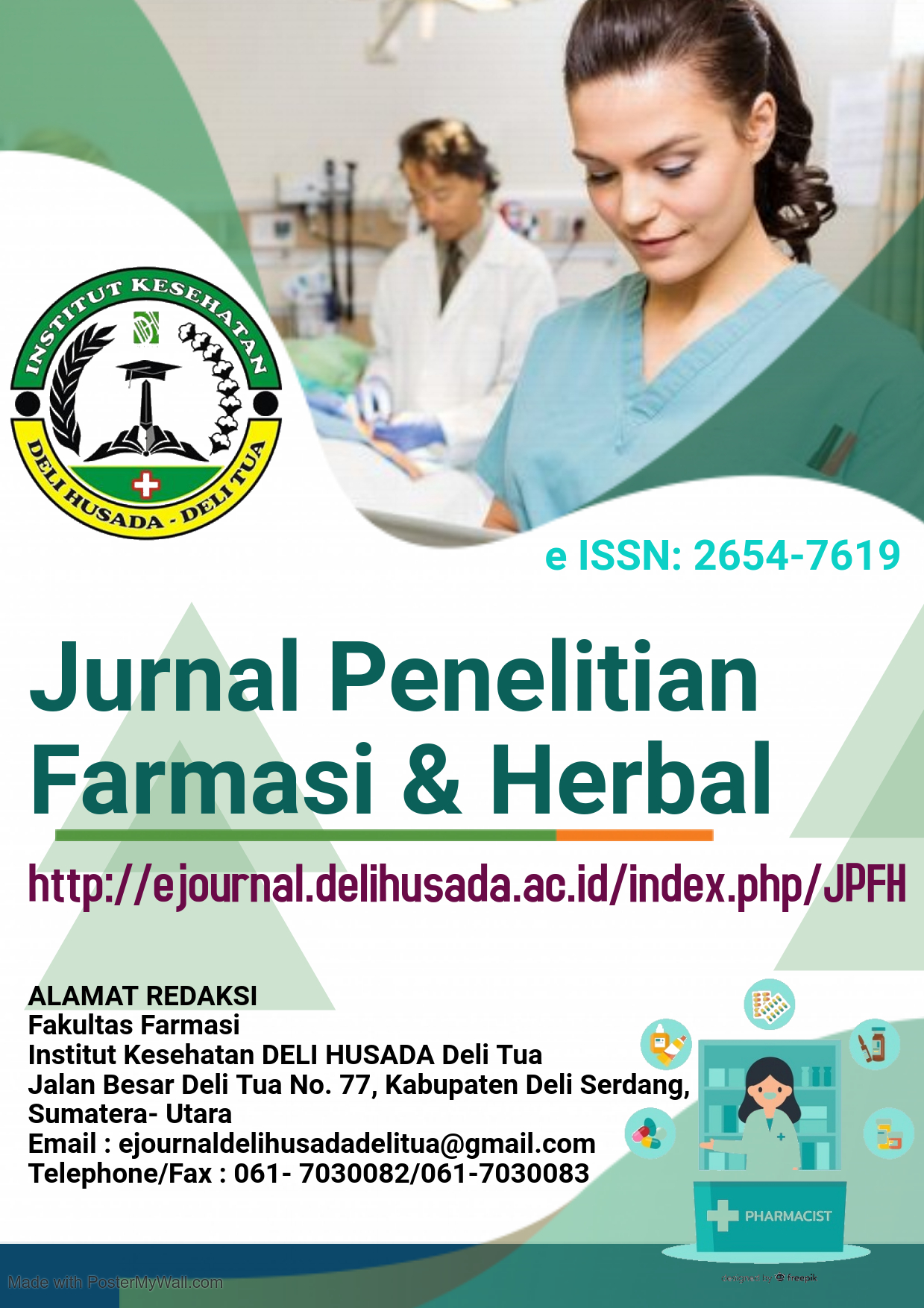 How to Cite
Simorangkir, D. (2020). PENGUJIAN EFEKTIVITAS DIURETIK KOMBINASI EKSTRAK ETANOL DAUN AFRIKA (Gymnanthemum amygdalinum Del.) DAN DAUN KELAPA SAWIT (Elaeis guineensis Jacq.) PADA TIKUS JANTAN. Jurnal Penelitian Farmasi & Herbal, 3(1), 106-111. https://doi.org/10.36656/jpfh.v3i1.332