UJI EFEKTIVITAS ANTIDEPRESAN EKSTRAK BATANG SERAI (Cymbopogon nardus (L.) Rendle) TERHADAP MENCIT PUTIH JANTAN (Mus musculus)
Delisma Simorangkir

Institut Kesehatan Deli Husada
Keywords:
Keywords: Depression, Immobility Time, antidepressant
Abstract
Depression is a mood disorder that is characterized by profound and sustained sadness and sadness until the loss of life passion. Lemongrass which contains eugenol is thought to have the potential as an antidepressant that works by inhibiting the Mono Amine Oxidase enzyme. This study aims to determine the effectiveness of antidepressant citronella extract (Cymbopogon nardus (L.) Rendle) on male white mice. This study used 5 treatment groups namely CMC Na 0.5%, amitriptilyn, lemongrass extract dose 1.5 mg/kgBB, 15 mg/kgBB and 150 mg/kgBB. Antidepressant testing was determined based on immobility time using the forsed swim test method. Data analysis using statistics was tested for normality and continued with the One Way Anova method with a 95% confidence level. The results showed that the most effective treatment group as an antidepressant was amitriptilyn followed by lemongrass extract dose 150 mg/kgBB. The conclusion of this study is that lemongrass extract dose 150 mg/kgBB has the effectiveness as an antidepressant but is no more effective than the comparison of amitrip
References
Athifah, Ishmah Almuqaffa. (2016). Uji Aktivitas Antidepresan Ekstrak Etanol Daun Kemangi (Ocimum americanum L.) Pada Mencit Jantan Galur Swiss Webster. Halamn 30.
Depkes RI. (1979). Farmakope Indonesia. Edisi Ketiga. Jakarta: Departemen Kesehatan Republik Indonesia. Halaman 591.
Hawari, Dadang. (2018). Manajemen Stres Cemas dan depresi. Jakarta: FKUI.
Istriningsih, Endang. (2018). Efek Antidepresan Kombinasi Infusa Buji Pala (Myristica fragrans) dan daun Kemangi (Ocimum basilicum) Pada Mencit Jantan Putih (Mus musculus). Slawi: Sekolah Tinggi Ilmu Kesehatan Bhakti Mandala Husada.
Jaya, Kusnadi. (2018). Keperawatan Jiwa. Tangerang Selatan: Binarupa aksara Publisher.
Lisnawati, Risa. (2015). Efektivitas Ekstrak (Momordica charantia L.) Sebagai Antidepresan Terhadap Mencit Jantan Putih (Mus muscullus). Jakarta: Akademi Farmasi dan Makanan.
Mayangsari, Putik Pamilutsih. (2017). Antidepresan Kombinasi Ekstrak Etanol Bunga Cengkeh (Syzgium aromaticum) dan Ekstrak Etanol Kulit Pisang (Musa paradisiaca) Terhadap Peningkatan Aktivitas Lokomotor dan Penurunan Immobility Time Pada Mencit. Surakarta: Fakultas Farmasi Universitas Muhammadiyah Surakarta. Halaman 5.
Nuzband, Khansa Nabila. (2014). Uji Aktivitas Antidepresan Ekstrak Bunga Cengkeh (Syzygium aromaticum) pada Mencit Putih (Mus musculus) Jantan dengan Metode Forced Swim Test. Samarinda: Akademi Farmasi Samarinda.
Praza S. dkk. (2016). Pengaruh Pemberian Ekstrak Etanol Daun Sirsak (Annona muricata L.) Sebagai Antidepresan Terhadap Mencit Swiss Webstar Jantan. Prosiding Farmasi. Volume 2 No. 1. ISSN: 2460-6472.
Ratna, Ajeng Ningtyas, dkk. (2018). Farmakoterapi Depresi dan Pengaruh Jenis Kelamin Terhadap Infeksi Antidepresan. Fakultas Farmasi. Universitas Padjadjaran. Halaman 187.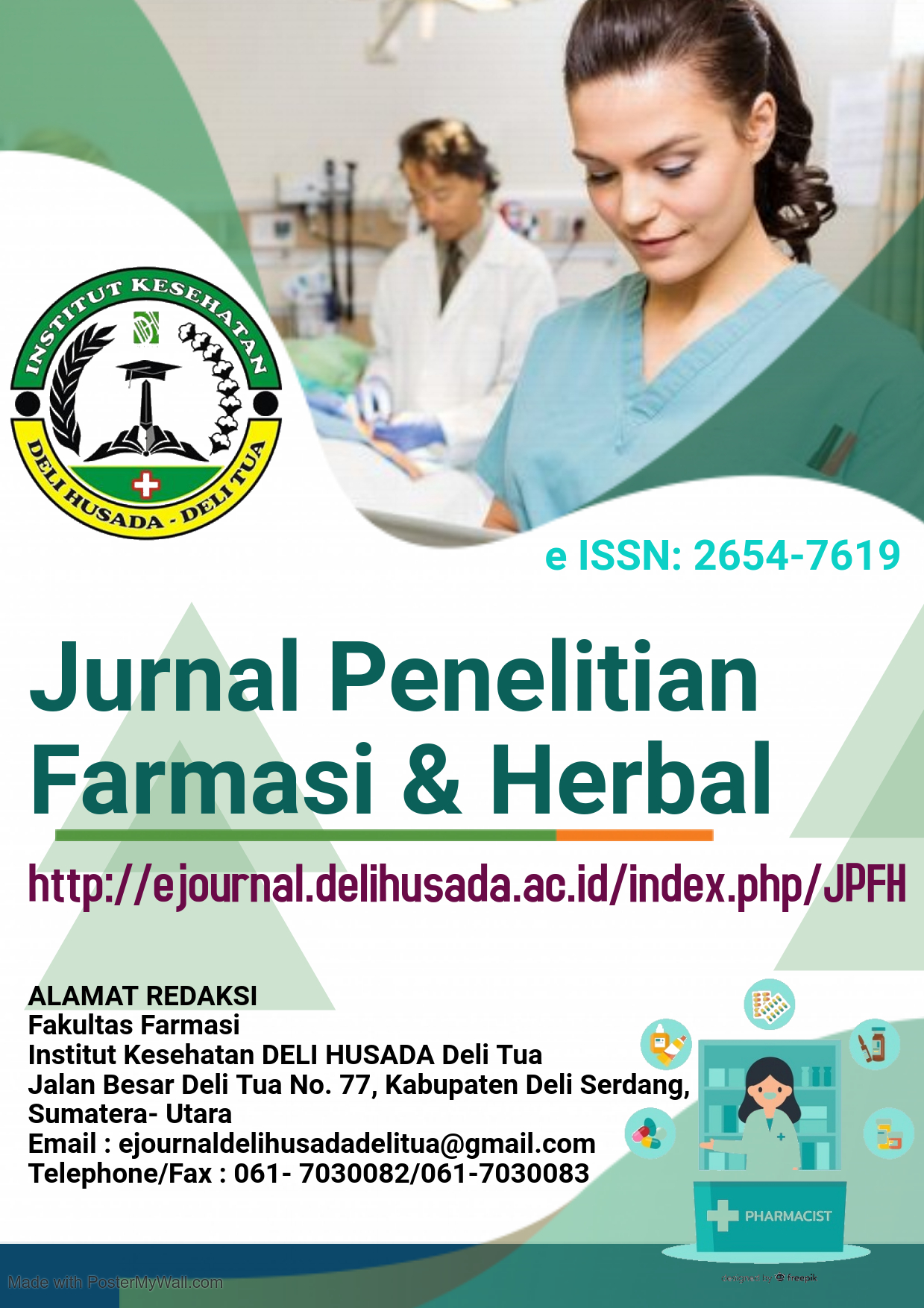 How to Cite
Simorangkir, D. (2020). UJI EFEKTIVITAS ANTIDEPRESAN EKSTRAK BATANG SERAI (Cymbopogon nardus (L.) Rendle) TERHADAP MENCIT PUTIH JANTAN (Mus musculus). Jurnal Penelitian Farmasi & Herbal, 3(1), 100-105. https://doi.org/10.36656/jpfh.v3i1.331