UJI EFEKTIVITAS GEL KOMBINASI EKSTRAK ETANOL DAUN BANGUN-BANGUN (Coleus amboinicus L.) DAN DAUN KELAPA SAWIT (Elaeis guieensis Jacq) SEBAGAI OBAT LUKA BAKAR TAHUN 2020
Evi Depiana Gultom

Institut Kesehatan Deli Husada
Keywords:
Combination Gel, Ethanolic extract, Burn wound, Rabbit
Abstract
Coleus amboinicus L leaves and Elaeis guieensis Jacq leaves contain various secondary metabolites such as saponins, tannins, alkaloids and flavonoids that function in wound healing. The purpose of this study was to determine the healing effect of burns using a gel preparation combination of ethanolic extract of Coleus amboinicus L. (EECAL)  And ethanolic extract of Elaeis guineensis Jacq. (EEEGJ) In healing burns. Coleus amboinicus L leaves and Elaeis guieensis Jacq leaves contain are separated from the petiole and then dried in a drying cupboard so that it becomes a simplicia. Simplisia is extracted by maceration method then evaporated with a rotary evaporator and evaporated again on a water bath to produce a thick extract. EECAL and EEEGJ are then formulated into gel preparations with varying concentrations. Each rabbit was shaved on its back then cleaned with 70% alcohol. Furthermore, rabbits were anesthetized using 0.5 ml Lidocain HCL as much as 0.5 ml subcutaneously. Then mark the part that will be injured with a diameter of 2 cm, by lifting the rabbit skin using tweezers and then made a wound using a hot iron plate that has been sterilized beforehand with 70% alcohol. Wound diameter measurements showed that all treatment groups from day 1 to day 20 experienced changes in wound diameter. EECAL 15% and EEEGJ 10% have a more effective effect in healing of burn than in their single form.           
Downloads
Download data is not yet available.
References
Anggowarsitio, L.J. (2014). Luka Bakar Sudut Pandang Dermatologi. Journal Widya Medika Surabaya.Volume 2.Nomor 2. Halaman: 115.
Aponno, S.V., Yamlean, P.V.Y., dan Supriati, H.S. (2014). Uji Efektifitas Sediaan Gel Ekstrak Etanol Daun Jambu Biji (Psidium guajava Linn) Terhadap Penyembuhan Luka Yang Terinfeksi Bakteri Staphylococcus aureus Pada Kelinci (Oryetolagus cuniculus).Jurnal Ilmiah Farmasi.3(3). Pp. 279-286.
Apriyanti, H.L. (2015). Panduan Teknis Budidaya Kelapa Sawit Untuk Praktisi Perkebunan. Cetakan 1. Jakarta: Penebar Swedaya. Halaman: 6.
Baroroh, D.B. (2011). Konsep Luka. Malang: Basic Nuring Departemen Indonesia. Hal.14.
Ditjen POM. (1979). Farmakope Indonesia. EdisiKe-tiga. Jakarta: Departemen Kesehatan RI. Hal. 33.
Gennaro, R.A. (2000). Reninglon, The Science and Practice Of Pharmacy, Edition 20 th. New York. Lippincot Williams and Wilkins. Hal.16-19.
Hasyim, N., Pare, K.L., Junaid, I., Kurniati, A. (2012). Formulasi dan Uji Efektivitas Gel Luka Bakar Ekstrak Daun Cocor Bebek (Kalanchoe pinnata L.) pada kelinci (Oryetolagus cuniculus).Majalah Faramasi dan Farmakologi.16(2). Pp. 89-94.
Kurnawan, E. (2014). Efek Salep Kombinasi Ekstrak Daun Bangun – Bangun (Coleus amboinicus L.) dan Ekstrak Herbal Pegagan (Centella asiatica (L.) urban) Terhadap Penyembuhan Luka Eksisi Pada Tikus Hiperglikemia Yang diinduksi aloksan. Fakultas Kedokteran Universitas Tanjung Pura. Pontianak. Hal. 4.
Mora, E., Emrizal., dan Nandhana. (2013). Isolasi dan Karakterisasi Asam Oleat Dari Kulit Buah Kelapa Sawit (Elaeis guineensis Jacq.).Jurnal Penelitian Farmasi Indonesia.Volume 01.Nomor 2. Halaman 48.
Syamsuni, H.A. (2006). Buku Ilmu Resep. Jakarta: EGC. Halaman 77.
Vijayarathna.(2012). Aktivitas Antibakteri Ekstrak Etanol dan Fraksi – Fraksi Dari Etanol Daun Kelapa Sawit (Elaeis guineensis Jacq) Terhadap Bakteri Straphyloccus aureus dan Subtilis Serta Profil KLTnya. Fakultas Farmasi. Universitas Muhammadiyah Surakarta. Halaman 1-2.
Widaryanto, E., dan Azizah, N. (2018).Prespektif Tanaman Obat Berkhasiat.Malang: Penerbit UB Press. Hal.7.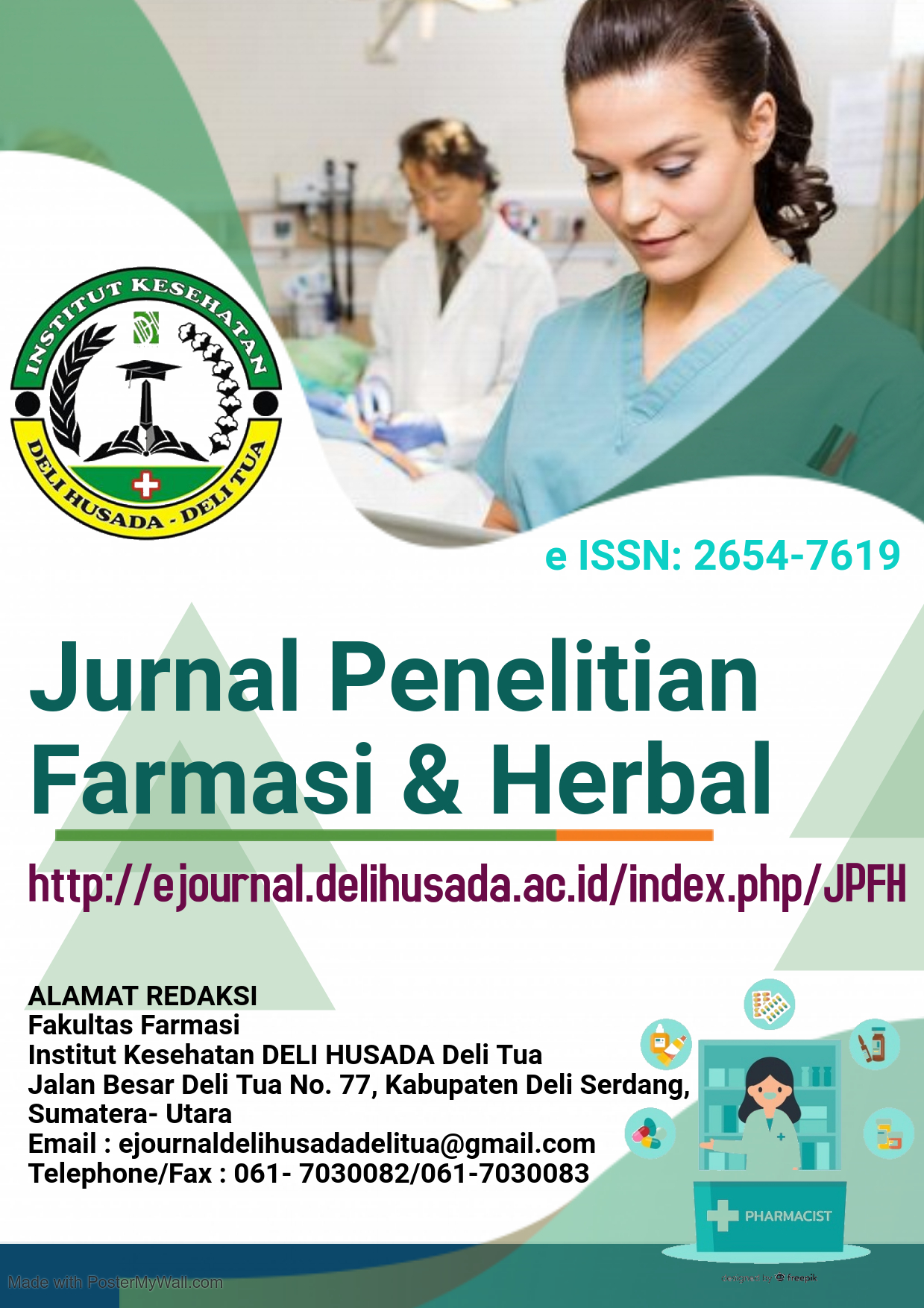 How to Cite
Gultom, E. D. (2020). UJI EFEKTIVITAS GEL KOMBINASI EKSTRAK ETANOL DAUN BANGUN-BANGUN (Coleus amboinicus L.) DAN DAUN KELAPA SAWIT (Elaeis guieensis Jacq) SEBAGAI OBAT LUKA BAKAR TAHUN 2020. Jurnal Penelitian Farmasi & Herbal, 3(1), 62-68. https://doi.org/10.36656/jpfh.v3i1.320