EFEK PENYEMBUHAN LUKA BAKAR GEL KOMBINASI EKSTRAK ETANOL DAUN AFRIKA (Vernonia Amygdalina) DAN EKSTRAKETANOLDAUNBANGUN–BANGUN(ColeusamboinicusLour)
EFEK PENYEMBUHAN LUKA BAKAR GEL KOMBINASI EKSTRAK ETANOL DAUN AFRIKA (Vernonia Amygdalina) DAN EKSTRAKETANOLDAUNBANGUN–BANGUN(ColeusamboinicusLour)
Nina Irmayanti Harahap

Institut Kesehatan Deli Husada
Keywords:
Burns, Ethanol Extract of EEDA and EEDB leaves.
Abstract
african leaves ( Vernonia Amygdalina )and wake-up leaves (Coleus amboinicus Lour)are plants traditional plants that are used as medicine. Leaves african which is contain flavonoid, saponin, tanin and leaves wake up which is contain flavonoid, tanin, saponin and steroid. This study to find aims out as effect healing of burns.Method : Sample in this study was african leaves and wake-up leaves which were taken purposively without comparing sampel from other regions, then extrated by maceration using ethanol 96 %. Result : Testing of rhe healing effects of burns can be divided in five treatment, positive group using biolacenton , negatif group using basis gel and the last group using the extract ethanol gel EEDA and EEDB concentrations of 4%+2,5%,8%+5%,16%+10%. Given burns to the back of rabbits length with of 2cm, and the gel is applied twice a day for 11 day and diameter measured of the wound. Conclusion : The combination of EEDA and EEDA the ethanol extract the concentration of 16% + 10% was the effective control for healing burns. When compared bioplacenton gel as a healing wound in rabbit.
Downloads
Download data is not yet available.
References
Annasthasia,S. (2018). Pelembab Kulit Alami Dari Sari Buah Jeruk Bali. Universitas Sumatera Utara. Medan : Halaman 109-110.
Effendi, C. (1999). Perawatan Pasien Luka Bakar. Penerbit Buku Kedokteran EGC : Jakarta. Indonesia.
Hamzah,M. Mazwadah et al. (2006). Anti Inflammatory Activity of Achilea and Ruscus Topikal Gel on Carrageenan-Induced Paw Edema In Rats. Acta Poloniae Pharmaceutica- drug research.
Kumar,B.(2007).
Ethnopharmacological Approaches To Wound Healing Exploring Medicinal Plants Of Indonesia. Jurnal Of Ethnopharmacologi.
Meilani,(2015).
Karakterisasi Simplisia, Skrining Fitokimia dan


Pemanfaatan Gel Ekstrak Etanol Daun Afrika (Vernoniaamygdalina Del)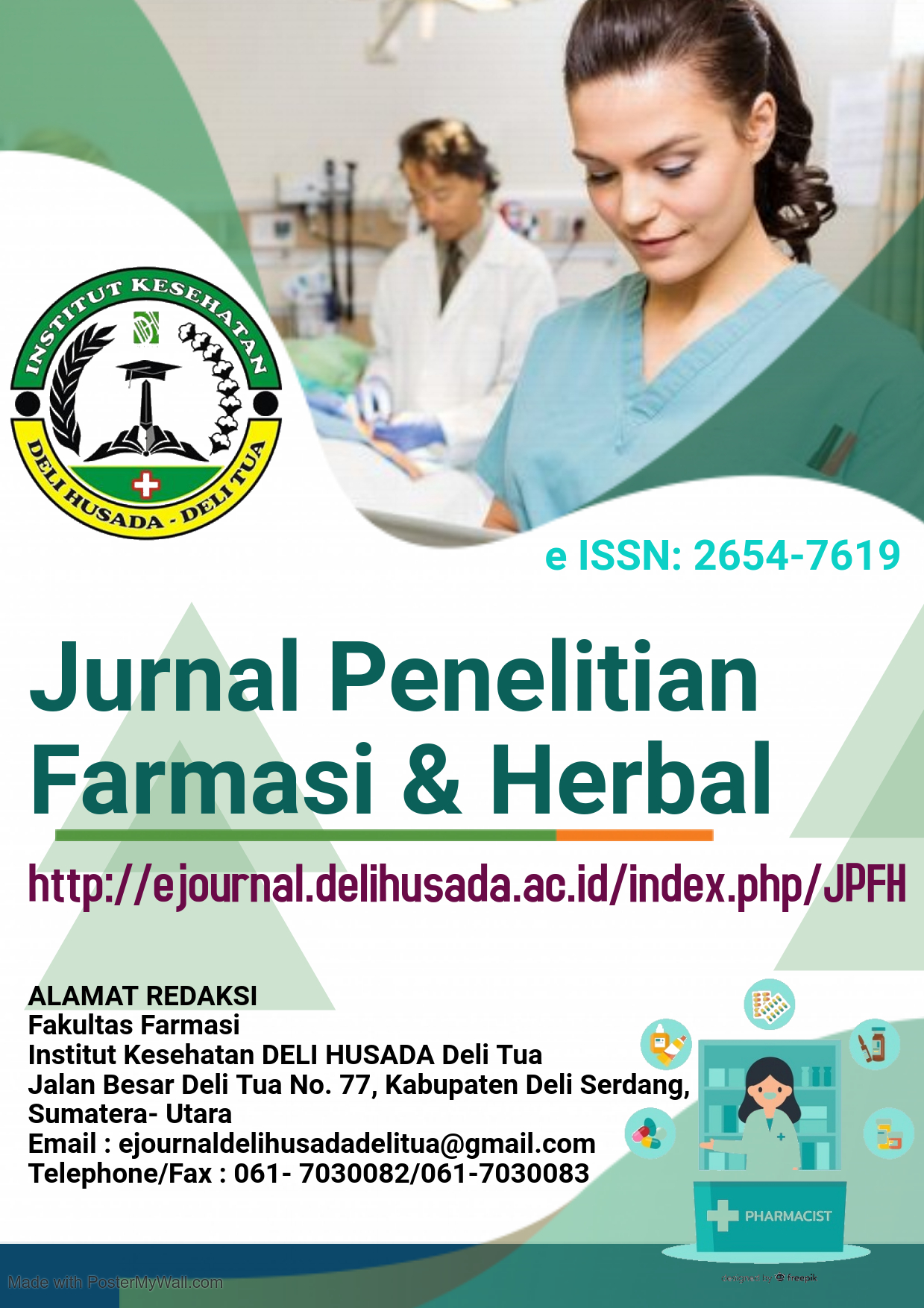 How to Cite
Harahap, N. (2020). EFEK PENYEMBUHAN LUKA BAKAR GEL KOMBINASI EKSTRAK ETANOL DAUN AFRIKA (Vernonia Amygdalina) DAN EKSTRAKETANOLDAUNBANGUN–BANGUN(ColeusamboinicusLour). Jurnal Penelitian Farmasi & Herbal, 3(1), 57-61. https://doi.org/10.36656/jpfh.v3i1.318