EFEKTIVITAS SALEP KOMBINASI EKSTRAK DAUN BANGUN – BANGUN (Coleus amboinicus Lour.) DAN DAUN KELAPA SAWIT (Elaeis guineensis Jacq.) SEBAGAI OBAT LUKA SAYAT
EFEKTIVITAS SALEP KOMBINASI EKSTRAK DAUN BANGUN – BANGUN (Coleus amboinicus Lour.) DAN DAUN KELAPA SAWIT (Elaeis guineensis Jacq.) SEBAGAI OBAT LUKA SAYAT
Rika Puspita Sari

Institut Kesehatan Deli Husada
Keywords:
Bangun-bangun leaves, palm leaves, ointment, wounds
Abstract
Bangun-bangun leaves and palm leaves contain various secondary metabolites such as tannins, alkaloids and flavonoids which can healing wound. The aim of this study was to determine the effect of ointment combination of ethanol extract of leaves of bangun- bangun (Coleus amboinicus Lour.) And ethanol extract of palm leaves (Elaeis guineensis Jacq.) In healing wound. The bangun- bangun leaves and the palm leaves are separated from the petiole and then dried in a drying cupboard so that it becomes a simplisia. Simplisia is extracted by maceration method then evaporated with a rotary evaporator and evaporated again on a water bath to produce a thick extract. Thick extracts from the leaves of bangun- bangun and palm leaves are then formulated into ointment preparations with varying concentrations. Each rabbit was shaved on its back then cleaned with 70% alcohol. Furthermore, rabbits were anesthetized using 0.5 ml Lidocain HCL as much as 0.5 ml subcutaneously. Next mark the part that will be injured with a diameter of 2 cm, by lifting the rabbit skin using tweezers and then made a wound using surgical scissors that have been sterilized first with 70% alcohol. Wound diameter measurements showed that all treatment groups from day 1 to day 23 experienced changes in wound diameter. The combination ointment of ethanol extract of leaves wake-up (EEDB) 10% and ethanol extract of palm oil leaves (EEDKS) 10% have a more effective effect in wound healing than single dose.
Downloads
Download data is not yet available.
References
Effendi, F., Halimatussa'diyah, dan Sri,
H. (2015). Efektivitas Penyembuhan Luka Terbuka Pada Kelinci Dari Formulasi Salep Ekstrak Etanol Daun Babadotan (Ageratum conyzoides L.). Bogor: Jurnal Farmasi Sekolah Tinggi Teknologi Industri dan Farmasi Bogor: Halaman 4-8.

Eriadi, Aried, dkk. (2015). Pengaruh Ekstrak Etanol Daun Bonginah (Anredera
cordifolia (Tenore) Steen) Terhadap Penyembuhan Luka Sayat Pada Tikus Putih Jantan. Padang: Jurnal Fakultas Farmasi Universitas Andalas Higea, Vol. 7, No. 2: Halaman 162, 164,
170.

Hasibuan, C., S. (2014). Skrining Fitokimia dan Uji Efektivitas Sediaan Gel Ekstrak Etanol Daun Kelapa Sawit (Elaeis guineensis Jacq.) Terhadap Penyembuhan Luka Sayat. Skripsi. Medan: Fakultas Farmasi Universitas Sumatera Utara.

Lubis, Rosliana. (2019). Skrining Fitokimia Dan Aktivitas Antimikroba Dari Tumbuhan Bangun-Bangun (Coleus Amboinicus Lour.). Medan: Talenta. Volume 2 Nomor 1:
Halaman 95.

Primadina, N., Achmad, B., dan David, S., P. (2019). Proses
Penyembuhan Luka Ditinjau Dari Aspek Mekanisme Seluler Dan Molekuler. Surabaya: Qanun Medika Vol.3 No.1: Halaman 32- 38.

Risza, Suyatno. (1994). Seri Budidaya Kelapa Sawit Upaya Peningkatan Produktivitas. Yogyakarta: Penerbit Kanisius. Halaman 39- 40.

Sasidharan, Sreenivasan, dkk. (2010). Wound Healing Potential of Elaeis guineensis Jacq Leaves in an Infected Albino Rat Model. Malaysia: Molecules, Volume 15: Halaman 3188-3189.

Silalahi, Marina. (2018). Plectranthus Amboinicus (Lour.) Spreng Sebagai Bahan Pangan Dan Obat Serta Bioaktivitasnya.
Jakarta: JDP Volume 11, Nomor 2: Halaman 123-138.

Wijaya B., A., Gayatri C., dan Frenly W. (2014). Potensi Ekatrak Etanol Tangkai Daun Talas (Colocasia esculenta (L.) ) Sebagai Alternatif Obat Luka Pada Kulit Kelinci (Oryctolagus cuniculus). Manado: Pharmacon Jurnal Ilmiah Farmasi Volume, 3 No.
3: Halaman 212.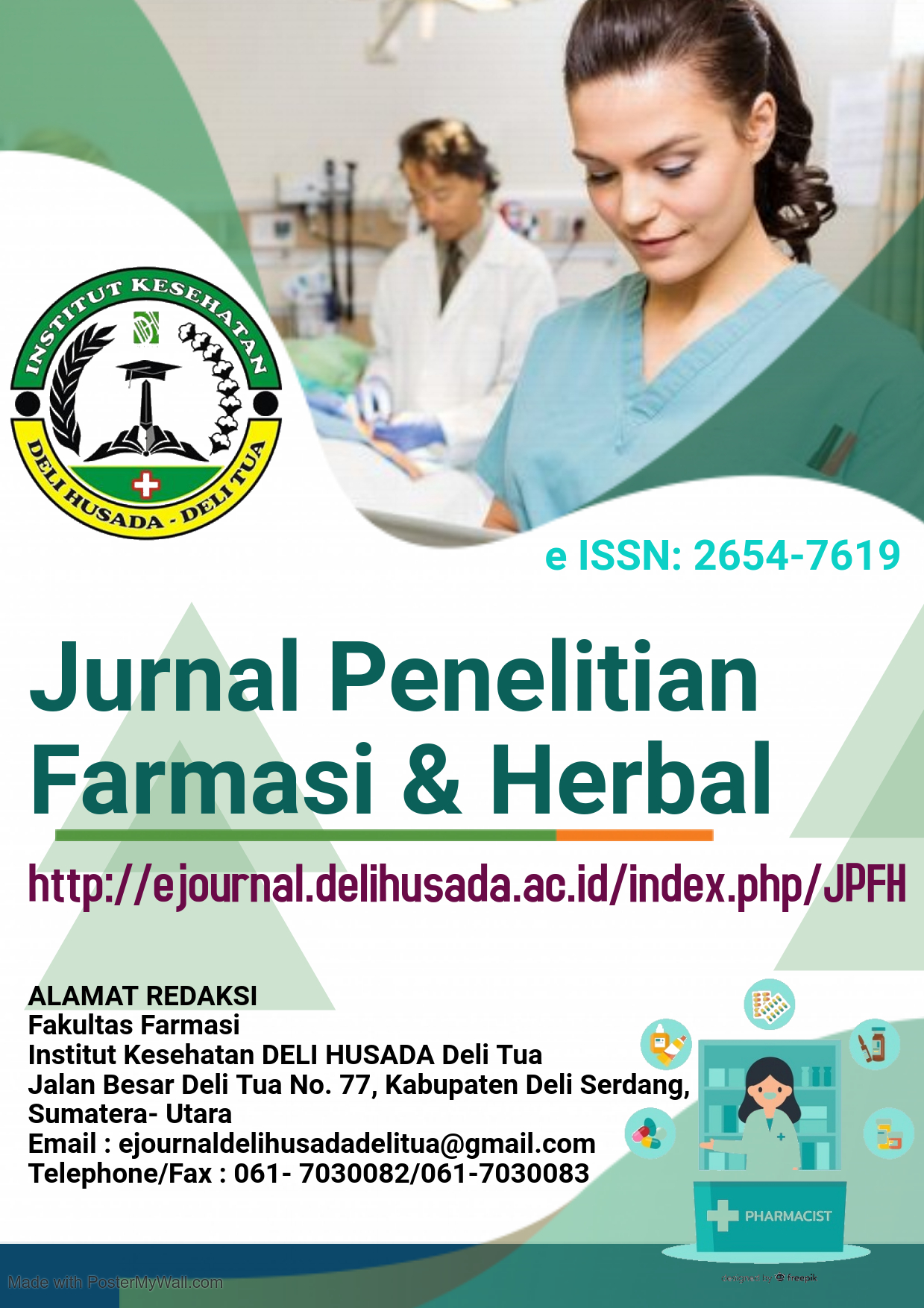 How to Cite
Sari, R. (2020). EFEKTIVITAS SALEP KOMBINASI EKSTRAK DAUN BANGUN – BANGUN (Coleus amboinicus Lour.) DAN DAUN KELAPA SAWIT (Elaeis guineensis Jacq.) SEBAGAI OBAT LUKA SAYAT. Jurnal Penelitian Farmasi & Herbal, 3(1), 48-56. https://doi.org/10.36656/jpfh.v3i1.317