FORMULASI OBAT KUMUR GAMBIR DAN UJI EFEKTIVITAS TERHADAP BAKTERI Staphylococcus aureus
FORMULASI OBAT KUMUR GAMBIR DAN UJI EFEKTIVITAS TERHADAP BAKTERI Staphylococcus aureus
Keywords:
Antibacterial effectiveness, Gambir, Staphylococcus aureus
Abstract
Oral hygiene and dental health are very important, there are various kinds of patogen  bacteria in the oral cavity, including the bacteria that cause thrush, Staphylococcus aureus. Gambir is the result of extraction containing polyphenol compounds. The main components contained in gambir consist of alkaloids, flavonoids, tannins and saponins. The use of gambir as a mouthwash preparation is an alternative to replace mouthwash preparations which generally contain an antiseptic in the form of alcohol which can trigger oral cancer. This research is to formulate gambir as a mouthwash and determine the differences in the effectiveness of antibacterial on the growth of Staphylococcus aureus with variations in the concentration of 5%, 10%, 15%. Antibacterial activity test using NA media with agar diffusion method. Physical requirements tests include organoleptic tests, pH tests and viscosity testsshowed that the preparation of 5%, 10% and 15% gambir mouthwash had a pH outside the optimum bacterial growth range of 5. Viscosity of mouthwash preparations of 1.30-5.10 Cp. The antibacterial activity of Staphylococcus aureus in F1 did not produce inhibitory zones, F2 was 5.46 mm, F3 was 9.60 mm and F4 was 10.76 mm while in f5 the positive control was 12.10 mm. Conclusio of this study is gambier mouthwash concentration of 5%, 10% and 15% can inhibit the growth of staphylococcus aureus bacteria.
Downloads
Download data is not yet available.
References
Aditya, M., Ariyanti, R,P. (2016). Manfaat Gambir (Uncaria gambir Roxb) sebagai Antioksidan. Lampung : Jurnal Uiversits Lampung vakultas kedokteran ,Vol. 5, No. 3.
Almasyhuri., Sundari, D. (2018). Uji Aktivitas Antiseptik Ekstrak Etanol Daun Sirih (Piper betle Linn.) dalam Obat Kumur terhadap Staphylococcus aureus secara in Vitro. Jakarta: Jurnal Kefarmasian Indonesia, vol. 9, No. 1. Halaman 11.
Anastasia, A,. Yuliet., Tandah, R, M. (2017). Formulasi Sediaan Mouthwash Pencegah Plak Gigi Ekstrak Biji Kakao (Theobroma cacao L) dan Uji Efektivitas pada Bakteri Streptococcus mutans. Palu: Journal of Pharmacy, Vol. 3, No.1. Halaman 85.
Anggraini, K, S. (2017). Uji Aktivitas Antibakteri dari Ekstrak Etanol Kulit Batang Sikkam (Bischofia javanica Blume) dan dalam Sediaan Obat Kumur. Medan: Skripsi Fakultas Farmasi Universitas Sumatera Utara, halaman 28.
David, W.W and Stout, T.R., (1971). Disc Plate Methods of Microbiological
Antibiotic Assay. Microbology. 22(4): 659-665
Hidayat. (2015). Kitab Tumbuhan Obat. Jakarta: Penebar Swadaya. Halaman 180.
Ningrum, A, W., Waznah, U. (2018). Formulasi Mouthwash Ekstrak Etanol Daun Kemangi (Ocimumbasilicum L.). Pekalongan: Journal of Pharmacy Vol. 2, No.2. halaman 162, 164
Pambayun., Gardjito, G. (2018). Sensitivitas Bakteri Gram Positif Terhadap Katekin Yang Diekstraksi Dari Gambir (Uncaria Gambir). Palembang: Agritech, Vol. 28, No. 4. Halaman 175.
Sandy, M, P., Irawan, B, F. (2018). Perkembangan Obat SariawandanTerapi Alternatifnya. Sumedang: jurnal farmasi vol.3, No.5. halaman 98.
Syamsuni. (2006). Ilmu Resep. Jakarta: Penerbit Buku Kedokteran EGC.Halaman 101.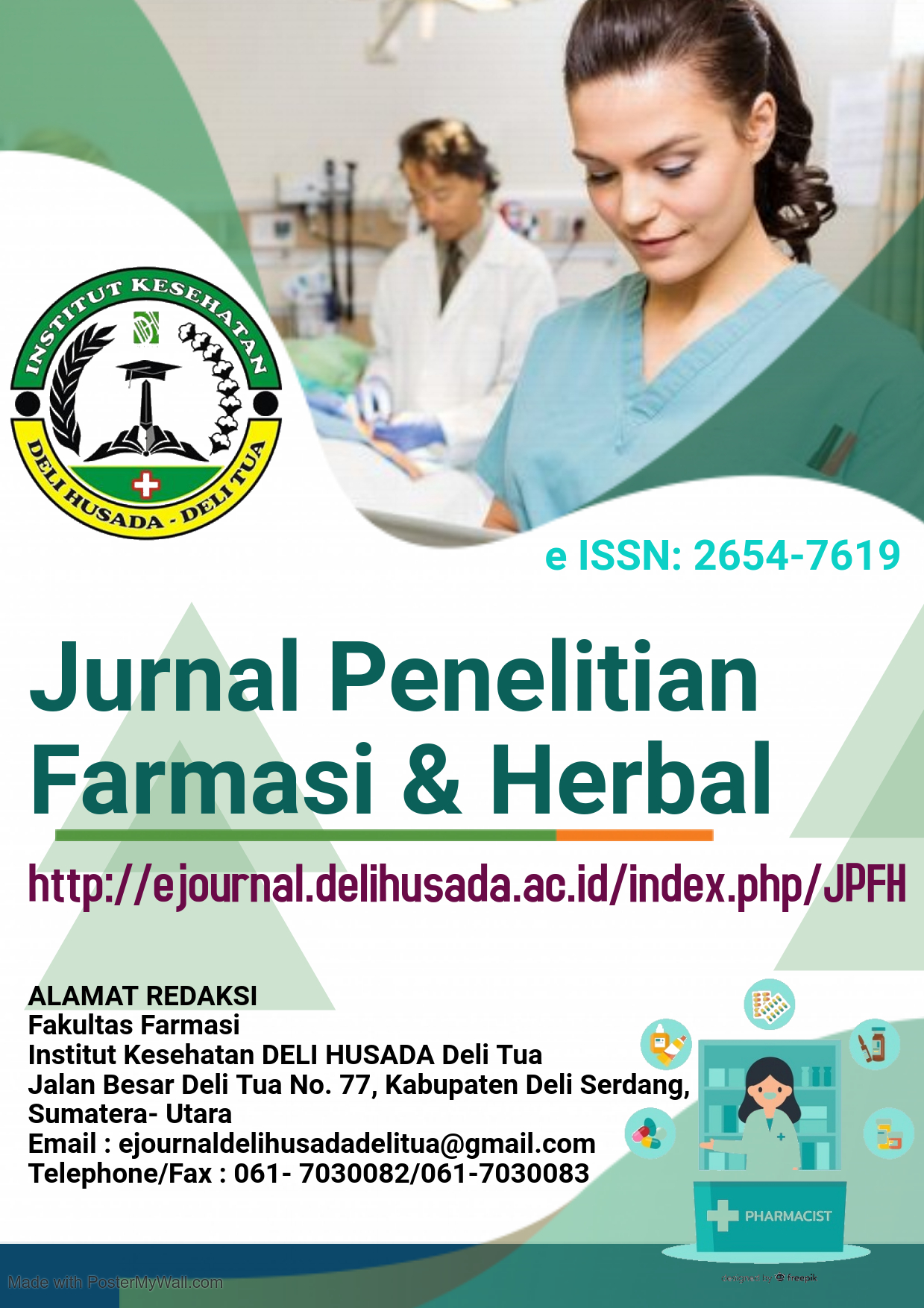 How to Cite
Harnis, Z. (2020). FORMULASI OBAT KUMUR GAMBIR DAN UJI EFEKTIVITAS TERHADAP BAKTERI Staphylococcus aureus. Jurnal Penelitian Farmasi & Herbal, 3(1), 38-47. https://doi.org/10.36656/jpfh.v3i1.316